Buitens
Landing page forms for a building products startup
We are going to look at our new customer Buitens today, learn about their business, and see how they incorporate FormCrafts.
Who is Buitens?
Buitens is a dutch startup that focuses in building products for outdoor living and recreational use. Their current focus is on 'het Buitenshuisje' which is a small cabin for camping, living, or working. Their current customer focus is on campsites and camping resorts but are also accepting inquiries for personal use.
How did Buitens find FormCrafts
Buitens had been using the WordPress plugin Elementor. They ran into issues with embedding forms into emails, and were also not happy with the design and appearance of Elementor forms. This led them to look for other form builders, and then they discovered FormCrafts.
Using FormCrafts to build HubSpot forms
Buitens uses FormCrafts primarily to create lead generation forms, and feedback forms.
They want to know what brought customers to their website, and their level of interest in their products. They also collect price inquiries, contact inquiries, and feedback.
We really like the amount and type of adjustments we can make in the design and set-up of the forms. The many different field options work really well for us.

Isa Stoffels - Buitens
Design philosophy
Buitens followed the same design philosophy with their forms as they did with their website - functional, minimal, and with bold contrasts.
You can see some of their form implementations below: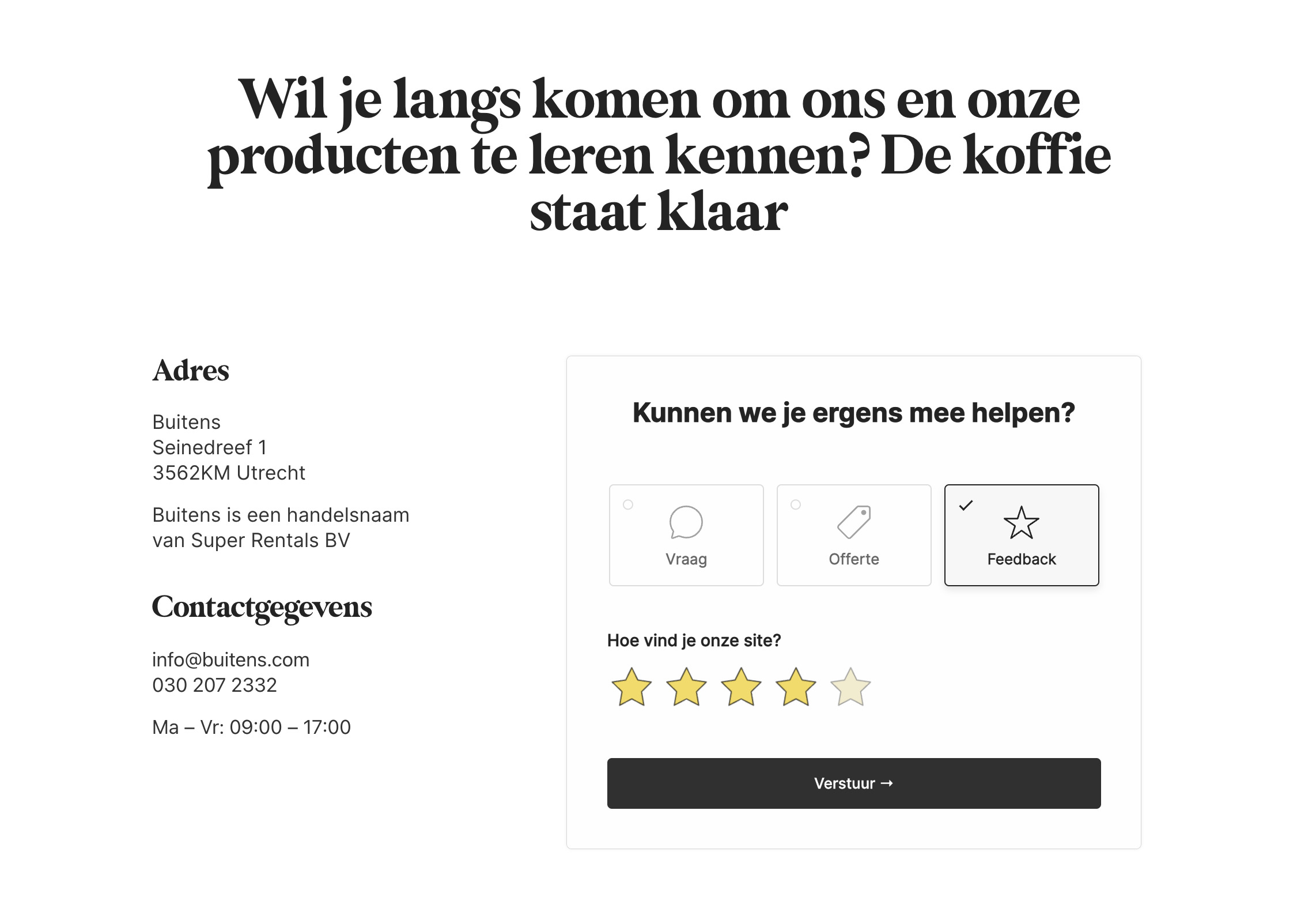 You would notice another theme in their forms - they blend with their background. The forms don't look like they were built on a third-party platform.
Features used by Buitens
Buitens' HubSpot forms may appear simple on the surface, but they utilize a range of advanced features to achieve the desired functionality. By leveraging FormCrafts' powerful tools, Buitens has been able to create forms that are both user-friendly and visually impressive.
Conditional logic
The forms look simple but use a lot of conditional logic features to improve the end-users' form-filling experience.
For example if the user selects Feedback on the contact form they are shown a field labelled Hoe vind je onze site? which can be used to leave a rating. This allows them to have a consolidated form for contact requests, and feedback.
Multi-page layout
Multi-page layouts are an excellent way to divide a complex form into manageable sections, ensuring an improved user experience and increased conversion rates. By utilizing this feature, Buitens is able to ask a number of questions on their lead generation form while not intimidating the customer with too many questions at the beginning.